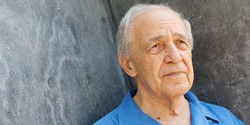 David Dalle
Thursday January 14th, 2016 with David Dalle
Music of death and decay; conductor and composer Pierre Boulez
Today we start with music from the great apostle of post-war WWII modernism, Pierre Boulez who died recently at the age of 90. Boulez is probably most widely known for being such a polarizing figure in 20th century music with his angry polemics, particularly in the 50's and 60's. But it was not unnatural for a brilliant young composer, growing into an adult during occupied France, to be angry at how the great musical culture of Europe had been used and abused by the Nazis, and how it was not able to prevent the madness Europe had been plunged into. He should be remembered for both his brilliant, dazzling and innovative compositions as his wonderful conducting. He struggled with the curse of trying to be both composer and conductor shared by others such as Bernstein and Mahler (who coincidentally both preceded him as conductor for the New York Philharmonic) as it seemed the latter limited his composed output. However as composer George Benjamin relates: "The world today doesn't need huge numbers of pieces, as it did in, say, Haydn's time. What are needed, surely, are essential statements, singular and unique works. And these he has provided, without question." As a conductor he focused primarily on 20th century modernist music from Mahler to Zappa, and his recorded output conducting other composer's eclipses in volume his composed output, but our appreciation and knowledge of 20th century classical music would be diminished without his contribution as a conductor. We hear one of several memorial works he created, "Rituel in Memoriam Maderna" in a recording conducted by the composer. Rituel is a work composed for his colleague and friend Bruno Maderna and makes reference of some of Maderna's compositional practices. He divides an orchestral ensemble into 8 individual groups, ranging from 1 to 14 instruments in size, each with 1-2 percussionists added. The piece begins with the smallest group and grows in 15 sections as more groups are added. After the midpoint, the groups begin to fall out in sections related to the first half, but not identical, the piece starting with only the smallest group and ending with only the largest group. It is a work which uses repetition and systemic structure to invoke a sense of sombre ritual. The music of death and decay will be a set of varied music (with a few surprises) built around movements from American composer Michael Hersch's "Vanishing Pavilions" from 2005, an extraordinary, unique work for solo piano in 50 movements which lasts around 2 and half hours. It was inspired by very evocative poetry by Christopher Middleton often dealing with a dead and decaying landscape.
Rituel in Memoriam Maderna
Pierre Boulez/BBC Symphony Orchestra, Pierre Boulez - Rituel/Eclat/Multiples - Sony Classical
The Vanishing Pavilions Book I: 13
Michael Hersch - The Vanishing Pavilions - Vanguard Classics
The Vanishing Pavilions Book I: 14
Michael Hersch - The Vanishing Pavilions - Vanguard Classics
The Vanishing Pavilions Book I: 15
Michael Hersch - The Vanishing Pavilions - Vanguard Classics
To Entertain You
Boris Kovac & La Campanella - World After History - Piranha
Oft denk'ich, sie sind nur ausgegangen!
Gustav Mahler/Brigite Fassbaender, Deutsches Symphonie-Orchester Berlin, Riccardo Chailly - Kindertotenlieder - Decca
The Vanishing Pavilions Book II: 33
Michael Hersch - The Vanishing Pavilions - Vanguard Classics
Limping Waltz
Boris Kovac & La Campanella - World After History - Piranha
On The Overgrown Path Book I: Unutterable anguish
Leos Janacek/Marc-Andre Hamelin - Schumann/Janacek - Hyperion

Bring Me the Disco King
David Bowie - Reality - Columbia
somewhere in space/angels and demons at play
Rake-Star - Some Ra - Spool

Rake-Star will be performing tonight at the Mercury Lounge, 9pm, only $5 for some great interplanetary travel!
https://www.facebook.com/events/550456938452134/
The Vanishing Pavilions Book II: 48
Michael Hersch - The Vanishing Pavilions - Vanguard Classics
The Vanishing Pavilions Book II: 49
Michael Hersch - The Vanishing Pavilions - Vanguard Classics
The Vanishing Pavilions Book II: 50
Michael Hersch - The Vanishing Pavilions - Vanguard Classics
Homeland
Brave Old World - Blood Oranges - Pinorrekk Records
Blood Oranges
Brave Old World - Blood Oranges - Pinorrekk Records