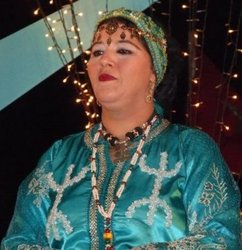 David Dalle
Thursday February 5th, 2015 with David Dalle
Moroccan Berber music with Rayssa Fatima Tabaamrant; music from Bosnia-Herzegovina, Azerbaijan, Mohammed Fairouz and more
Rayssa Fatima Tabaamrant is a Berber from the High Atlas who has gained acclaim in Morocco as the first woman to lead a Rwais troupe. Rwais are traditionally intinerant professional singers who travel from town to town and have become quite popular in Morocco. She writes all the poetry she sings and her low and powerful voice is focused more on emotional declamation than beauty. We hear some pieces from a concert recording. We also hear some music from Bosnia-Herzegovina which is rooted in the urban Sevdalinka tradition, music from Azerbaijan with the Kronos Quartet and from traditional groups, and music from talented young American composer Mohammed Fairouz who blends Arabic music with contemporary classical forms and American traditions.
Instrumental
Rayssa Fatima Tabaamrant - Taghlaghalt or The Echo of the Atlas - Institut du Monde Arabe
Tirra n yils
Rayssa Fatima Tabaamrant - Taghlaghalt or The Echo of the Atlas - Institut du Monde Arabe
Ajddig Ilwrd
Rayssa Fatima Tabaamrant - Taghlaghalt or The Echo of the Atlas - Institut du Monde Arabe
A bu nniyt
Rayssa Fatima Tabaamrant - Taghlaghalt or The Echo of the Atlas - Institut du Monde Arabe
Ait l'aql
Rayssa Fatima Tabaamrant - Taghlaghalt or The Echo of the Atlas - Institut du Monde Arabe
Kad ja podoh na Bentbasu
Jadranka Stojakovic feat. Miroslav Tadic - Sevdalinka - Piranha
Kraj tanana sadrvana
Omer Pobric feat. Hasna Kasmo - Sevdalinka - Piranha
Etude fantastique Op. 12 no. 4
Georgy Catoire/Marc-Andre Hamelin - Piano Music - Hyperion

Prelude Op. 17 no. 3
Georgy Catoire/Marc-Andre Hamelin - Piano Music - Hyperion

Prelude Op. 10 no. 2
Georgy Catoire/Marc-Andre Hamelin - Piano Music - Hyperion

Sini jarko sa istoka sunce
Vesna Hdzic - Sevdalinka - Piranha
Knjigu pise Tahir-Beze
Emina Zecaj and Mehmed Gribajcevic - Sevdalinka - Piranha
Tasnif et Orta Sarytel
Edalat Nasibov - The Art of the Saz - Ocora
Mugam Beyati Shiraz
Rahman Asadollahi/Kronos Quartet - Floodplain - Nonesuch
Native Informant - Sonata for Solo Violin
Mohammed Fairouz/Rachel Barton Pine - Native Informant - Naxos