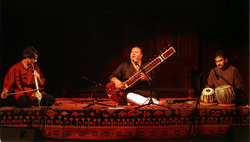 David Dalle
Thursday December 11th, 2014 with David Dalle
Wide mix of old and new releases including Ghazal, Parisian afrofunk, Salar Aghili, new Marc-Andre Hamelin.
A wide mix of music both old and new I have been listening to recently, including the famed collaboration between Kayhan Kalhor and Shujaat Husain Khan, Ghazal. They have not had a new album since 2003, but they are touring together again in 2015 so maybe another album is on the horizon. We will also hear from Parisian Afrofunk group Afrorockerz, pianist Marc-Andre Hamelin's new Debussy album, Persian singer Salar Aghili who is performing in Ottawa this weekend and more!
You Need Me
The AfroRockerz - The AfroRockerz - Buda musique

Tajaban
Lo'Jo - 310 Lunes - World Village

Claroscuro
Troker - Crimen Sonoro - Intolerancia

Blue Soon
Sam Shalabi & Stefan Christoff - Rodina - Howl Arts Collective


Kabasele in Memoriam
Tabu Ley Rochereau & Franco - The Voice of Lightness vol. 2 - Sterns
Naleli Libota
Orchestra Super Mazembe - Mazembe@45RPM - Sterns
The great Iranian singer Salar Aghili will be performing in Ottawa this Saturday evening with Iranian Tar player Keyvan Saket and Baarbad Ensemble from Toronto, not to be missed! More information:
https://www.facebook.com/events/1542674062616492/
Bayat-e Esfahan: Chahar-Mezrab-E Entezar
Salar Aghili with Dastan Ensemble - The Endless Ocean - Network
Bayat-e Esfahan: Saz-o Awaz
Salar Aghili with Dastan Ensemble - The Endless Ocean - Network
Bayat-e Esfahan: Tasnif-e Hal-e Khunin Delan
Salar Aghili with Dastan Ensemble - The Endless Ocean - Network
Images Book II: Cloches à travers les feuilles
Claude Debussy/Marc-Andre Hamelin - Debussy - Hyperion


Images Book II: Et la lune descend sur le temple qui fut
Claude Debussy/Marc-Andre Hamelin - Debussy - Hyperion


Images Book II: Poission 'dor
Claude Debussy/Marc-Andre Hamelin - Debussy - Hyperion


Fire In My Heart
Ghazal - Moon Rise Over the Silk Road - Shanachie