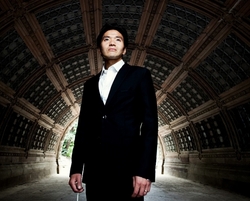 David Dalle
Thursday October 2nd, 2014 with David Dalle
Breaking Bad - the Opera
Today we start with two movements from the premiere of Sung Jin Hong's Breaking Bad - Ozymandias, his opera based on the popular tv drama and Shelley's famous poem about hubris. Sung Jin Hong is a composer and the conductor and music director of One World Symphony; an orchestra based in New York City which is gaining a reputation for its unorthodox programming. They have an upcoming CD which features all live recordings including these two movements from the opera recorded at its sold out 2014 premiere.
www.oneworldsymphony.org
Note for Carleton students: RJ Mitte, the Breaking Bad actor who played Walter White Jr. will be giving a free talk at Carleton Friday night.
http://carleton.ca/cab/cu-events/rj-mitte-presented-cab-cdac/
Breaking Bad - Ozymandias I. Chemistry
Sung Jin Hong/One World Symphony, Sung Jin Hong - One World Symphony - One World Symphony

Breaking Bad - Ozymandias III. The Moment
Sung Jin Hong/Jose Pietri-Coimbre, One World Symphony, Sung Jin Hong - One World Symphony - One World Symphony

Rite of the Cicada: Meditation-Arohati
Sung Jin Hong/One World Symphony, Sung Jin Hong - One World Symphony - One World Symphony

Aravot Luso
Gevorg Dabaghyan - Miniatures - Traditional Crossroads
Tahwidah
Mohammed Fairouz/Mellissa Hughes, David Krakauer - Native Informant - Naxos
Breath of Life
Zebrina - Hamidbar Medaber - Tzadik

Lament
Kiran Ahluwalia - Sanata: Stillness - Kiran Music


Ethnia Twila
Emel Mathlouthi - Kelmti Horra - World Village
Nassam Aleyna Al Hawa
Fawzy Al-Aiedy - Radio Baghdad - Institut du Monde Arabe
Piano Concerto No 2 in c minor Op. 77
Charles-Marie Widor/Markus Becker, BBC National Orchestra of Wales, Thierry Fischer - The Romantic Piano Concerto vol. 55 - Hyperion
Glass Houses #11
Ann Southam/Christina Petrowska Quilico - Glass Houses vol. 2 - centrediscs