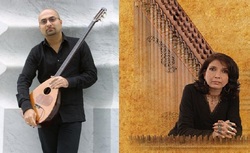 David Dalle
Thursday July 3rd, 2014 with David Dalle
Contemporary Lebanese music; Mali; Schubert
Today we hear some of the very diverse contemporary music coming from Lebanon. Issa Hassan is actually of Kurdish background and his music is rooted in Anatolian Kurdish music but played with an adventurous jazz sensibility. He plays the bouzouk and is joined in trio on this recording with bassist Emek Evci, percussionist Youssef Hbeisch, as a quartet with pianist Elie Maalouf, and one quartet with guest flamenco guitarist Manuel Delgado. The other Lebanese musician we look at is the late Imane Homsy who died in 2013. She was an extraordinary artist who fell in love with the Qanun as a young girl, though this is one of the oldest Arabic instruments and is essential as part of an Arabic classical ensemble or orchestra, it was always relegated to an accompanying role. And though Imane Homsy did love accompany singers, including the great Fairouz, she aimed to make the qanun a solo instrument. Traditionally the qanun was played with only 2 fingers, but she developed a virtuosic 10 finger technique which greatly expanded the possibilities of the instrument. On her last recording we hear perform solo improvisations, and as a soloist with an Arabic orchestra. We will also hear Schubert's a minor piano sonata from 1823 in a new recording with pianist Paul Lewis. This recording features this sonata and the famous last 3 sonatas which concludes Paul Lewis' Schubert cycle. This was the first time I've heard his Schubert and I was floored, his performance is exquisite, dramatic and fierce without losing the architecture of the piece. Schubert's piano sonatas are often realms of ambiguity, self-doubt, hesitation, avoiding the grand declaration of some of Beethoven's famous sonatas. This dark, moody sonata foreshadows the anguish and tragedy of 2 of the final sonatas. We will be hearing Paul Lewis in these 3 final sonatas in upcoming shows.
Les vestiges du passe
Issa Hassan - So bouzouk - Institut du Monde Arabe
La Danse du 7
Issa Hassan - So bouzouk - Institut du Monde Arabe
C'est ainsi
Issa Hassan - So bouzouk - Institut du Monde Arabe
Lost in Lebanon
Wassim Soubra - Sonates orientales - Institut du Monde Arabe
Cycle de danses
Imane Homsy - Seigneur Kanoun - Institut du Monde Arabe
Taqsim Rast
Imane Homsy - Seigneur Kanoun - Institut du Monde Arabe
Sama'i Suzdal
Imane Homsy - Seigneur Kanoun - Institut du Monde Arabe
Cadence en 7
Issa Hassan - So bouzouk - Institut du Monde Arabe
Piano Sonata in a minor D784
Franz Schubert/Paul Lewis - The Late Piano Sonatas - Harmonia Mundi

Lampedusa
Toumani Diabate & Sidiki Diabate - Toumani & Sidiki - World Circuit

Khafole
Habib Koite - Soo - Contre Jour
Omara 'Bombino' Moctar will be performing at the Ottawa Bluesfest Wednesday July 9 8:15pm at the Blacksheep stage. More information at ottawabluesfest.ca
Possibly one of the bluesiest musicians at the current Ottawa "Bluesfest" :)
Kammou Taliat
Bombino - Agadez - Cumbancha
Tigrawahi Tikma
Bombino - Agadez - Cumbancha
Ay Takamba
Sidi Toure - Alafia - Thrill Jockey
Emajer
Tinariwen - Emmaar - Anti