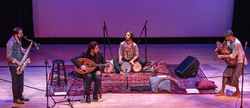 David Dalle
Thursday April 24th, 2014 with David Dalle
Syrian-Iranian musical collaborations, music from Algeria and Columbia
Today we hear a wonderful and rare collaboration between two Syrian musicians and two Iranian musicians; a live recording from the Freer Sackler Smithsonian Asian Art Museum's concert series. This quartet is comprised of Saeid Shanbehzadeh who plays the Iranian bagpipe from Southwestern Iran, his son Naghib Shanbehzadeh on percussion, Syrians Basel Rajoub on Saxophone and Kenan Adnawi on Oud. Saeid and Basel met at a World Music festival in Shanghai and were interested in each other's music, they met again by chance on a street in Paris where Basel Rajoub was rehearsing with a group and after listening for 10 minutes, Saeid started up his bagpipe and joined in. They do not share a common language except for music. The music is influenced by Jazz, folk music from Southwestern Iran and classical Syrian Arabic music. We will also hear some older releases from Algeria and some Vallenato music from Colombia, the folk music from Northeastern Colombia treasured by the great novelist Gabriel Garcia Marquez who died last week.
Somraya
Saeid Shanbehzadeh, Basel Rajoub, Naghib Shanbehzadeh, Kenan Adnawi - Freer Sackler Concert Series - Smithsonian

Ey Shaame
Saeid Shanbehzadeh, Basel Rajoub, Naghib Shanbehzadeh, Kenan Adnawi - Freer Sackler Concert Series - Smithsonian

T'abiyat
Saeid Shanbehzadeh, Basel Rajoub, Naghib Shanbehzadeh, Kenan Adnawi - Freer Sackler Concert Series - Smithsonian

Eshgh Bazi
Saeid Shanbehzadeh, Basel Rajoub, Naghib Shanbehzadeh, Kenan Adnawi - Freer Sackler Concert Series - Smithsonian

Mina
Saeid Shanbehzadeh, Basel Rajoub, Naghib Shanbehzadeh, Kenan Adnawi - Freer Sackler Concert Series - Smithsonian

Bida'ya
Saeid Shanbehzadeh, Basel Rajoub, Naghib Shanbehzadeh, Kenan Adnawi - Freer Sackler Concert Series - Smithsonian

The Encounter
Saeid Shanbehzadeh, Basel Rajoub, Naghib Shanbehzadeh, Kenan Adnawi - Freer Sackler Concert Series - Smithsonian

Rani Men Hadou Lamhane
Cheikh Ben Achitte - Algerie: Panorama de L'Oranais - Buda
Mektoub Aaliya Enoualef
Noura - Tresors de la musique algerienne - Institut du Monde Arabe
Hayzia
Ahmed Khelifi - Tresors de la musique algerienne - Institut du Monde Arabe
Fat Elli Fat
Ahmed Wahby - Tresors de la musique algerienne - Institut du Monde Arabe
Una Limosnita por Amor de Dios
Agustin Barrios Mangore/Philip Dent Candelaria - Progression - Palladium Records

The Boy and the Boat
Ian Tamblyn - The Labrador - North Track Records


La Miseria Humana
Lisandro Meza - Rey Sabanero del Acordeon - Discos fuentes
Pozo brillante
Toto La Momposina - Pacanto - World Village