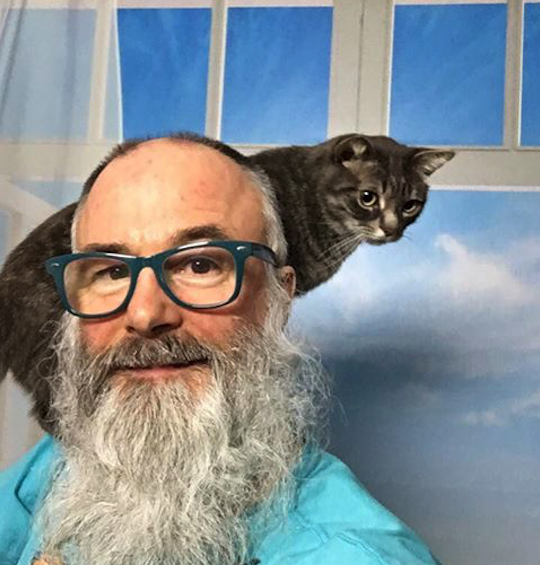 Chain Reaction
Thursday June 14th, 2018 with Allen Roulston
A Chain of Songs where each is connected to the next via personal relationships between the artists creating the music.
One Degree of Separation via Music
Gotta Live
Black Water Brigade - single


"Black Water Brigade" are a power trio based in The Ottawa Valley playing good ol' Rock n' Roll with accents of 60's and 70's rock punch and 90's angst and fever, all presented with lyrics from personal experiences and social commentary. We have been together since July of 2017 and have played a dozen shows since then and recorded our debut album. the band consists of Mike Graham (Guitar/Bass/Keys & Lead & Backing Vocals), Jason Thomas (Bass/Guitar/Lead & Backing Vocals),
& Steve Anthony (Drums/Percussion & Backing Vocals), Jason and Mike switch out Guitar and Bass duties to add an ever changing feel to their songs. Their influences are well planted in bands like Black Sabbath, The Foo Fighters, Kiss, Kyuss, Queens of the Stoneage, Cream, The Police, Rush, Talking Heads. Our debut single "Gotta Live" is now out, it's a straight forward power rocker about how life can beat you down, but you gotta stand up and live it anyways the best you can. Our full length album is being released July 6th 2018 in CD, Digital & Record format, the album is a collection of 10 of our songs that flow nicely together and give a good cross section of our sound and groove. The Single "Gotta Live" is presently available at bandcamp for purchase and the full album will be available via our website and digital platforms like itunes. We recorded our album with Jordon Zadorozny (Musician and Producer) at Skylark Park in Pembroke, Ontario over a few sessions in May 2018, it was a pleasure working with Jordon, he has worked with Sam Roberts Band & Courtney Love, Tara Slone & Mandy Moore to name a few.
Our upcoming summer is getting full up... Album Release Party w/ Evil Creek at Nelson Street Pub, Pembroke, ON 7/6/2018, Whitewater Street Strut w/ BIG WRECK, Cobden, ON 7/14/2018, Overtime Sports Bar, Kingston, ON 7/20/2018, Nelson Street Pub, Pembroke, ON 8/3/2018, Nothing But Grace Fest, Westmeath, ON 8/11/2018, Heavy GL 6, Golden Lake, ON 8/25/2018. Here are our Social Media Links: www.blackwaterbrigade.com : Facebook: https://www.facebook.com/BWBMuzik/ : Youtube: https://www.youtube.com/channel/UCKxse2j9TKTZs5gH8KSRR5g : Bandcamp: https://bwbband.bandcamp.com/ : Twitter: https://twitter.com/WeAreBWB

Connection to the next song: the members of BWB frequent Dean Batstone's club, The Northern Ramble.
Sister Tequila
Dean Batstone - Broken

Sick And Tired
Black Water Brigade - single


Journeyman
Dean Batstone - Unbroken

Dean Batstone played live at the Black Irish in April 2018. He played a very entertaining set, after which I bought his two new albums [Unbroken & Broken] and thoroughly enjoy them.

Broken was recorded as first take demo's in Dean's tour bus while on the road and he played everything on that album. Unbroken was recorded in a studio and features drummer, Gary Burke [who has played on all of Dean's records since 1991] was the drummer on Bob Dylan's Hard Rain record, did at least 6 Joe Jackson records and too many others to mention - he's simply one of America's best. The bass player on Unbroken is Ira Coleman, best know for his 8 years plus with Sting. There are 2 amazing guitarists sharing Axe duty - Jim Weider, who's also played with Bob Dylan, but is best know as the guitarist who replaced Robbie Robertson in The Band after the Last Waltz and continued to play with Levon Helm until Levon's death a few years ago. The second guitarist is John Platania, who played on many of the early Van Morrison records and toured with Van for years, as well as played with Don McLean, Nathalie Merchant and many others. Lastly, the keyboardist is Clifford Carter, who played [and I believe still does when he tours] with James Taylor for 20+ years. An all-star band to say the least and one which allow many CHAIN REACTION musical connections.

In addition to being an excellent performer and entertainer, he owns The Northern Ramble in Renfrew, Ontario. Check it out: https://www.northernramble.com. I strongly suggest you make an effort to see Dean Batstone live. You can buy his music at http://www.deanbatstone.com
In April 2018 Dean Batstone met a number of local musicians in Ottawa, at the Black Irish. Michael Whelan of Ladies and Escorts performed the this song following Dean Batstone.

Michael Whelan will be playing with Ladies & Escorts at the Montgomery Legion on July 14, 2018 and at Wabafest on July 21, 2018.

Greg Kelly and Calère Boudreau also performed the same day following Dean Batstone.
Up The Line
Michael Whelan - single (live)


Slow Horses
Greg Kelly - Slow Horses

The Last Duel
Calère Boudreau - Snow Angel

What do Trump, Trudeau, Putin and Kim Jong-un have in common? They are all featured in Greg Kelly's political song ...
Political Song
Greg Kelly - single (live)


Fool The Fool
Howie Hooper - The Art Of Procrastination

Howie Hooper worked extensively with Keith Glass on The Art of Procrastination.
Love Is Red
Lynn Miles with Keith Glass - Road

Keith Glass was a constant creative force within Canada's Prairie Oyster.
Can't Say Goodbye
Prairie Oyster - Everybody Knows

Don't Ask The Question
Russell deCarle - Under The Big Big Sky

Russell was a member of Prairie Oyster. Given Russell deCarle's popularity in the roots music community, it's no surprise to find a star-studded guest list, including Jim Cuddy (vocals on "Don't Ask The Question"), Dala and ace guitarists Keith Glass, Kevin Breit, David Wilcox, Amos Garrett and Steve Briggs.
While I Was Waiting
Jim Cuddy - Constellation

Jim Cuddy was a founding member of a Canadian band which produced 15 studio albums; Blue Rodeo.
5 Days In May
Blue Rodeo - Five Days In July

Blue Rodeo frontman Greg Keelor lends his pipes to Great Big Sea's 1997 album Play
When I'm Up - I Can't Get Down
Great Big Sea - Play

Bob Wiseman would leave Blue Rodeo in 1992, carving out a notable career of his own as a solo artist and songwriter, film composer and producer, while collaborating with the likes of Bob Snider, Ron Sexsmith, Barenaked Ladies and Kids in the Hall alum Bruce McCulloch and Scott Thompson.
Daves I Know
Bruce McCulloch - Shame-Based Man

Invisible Fence
Bare Naked Ladies - Fake Nudes

Gonna Get What's Mine
Ron Sexsmith - Grand Opera Lane

On A Night Like This
Bob Snider - Stealin' Home

Dennis Delorme (pedal-steel guitar) was also part the (1974-78) Prairie Oyster lineup that toured extensively and became favourites on the central Canada festival circuit.
All About You
Bacporch Dave - The Highway

American Pie
Don McLean - American Pie
Dean Batstone has played with John Platania, who played with Don McLean and Dean also played with Gary Burke who played with Bob Dylan, on his album Unbroken.
All Along The Watch Tower
Dean Batstone - Single

Kansas City
The New Basement Tapes - Lost On The River